14.98 Ha. (37.01 ac) of Development Lands at Belview Port, Waterford City, Waterford
POA
14.98 Hectares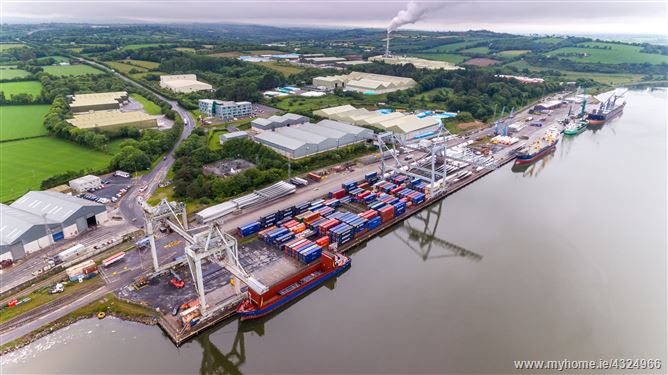 Features
Zoned Development Site
Partially serviced estate road in situ
Zoned "Port Facilities and Industry"
Within Port operating area
Available in one lot or on a break up basis
Submissions in respect of this site to be made on or before the close of business on Wednesday June 5th 2019
Relevant information may be obtained from the appointed Agents REA O'Shea O'Toole (Ref Des O'Shea),
11 Gladstone Street, Waterford. 051 876757. desoshea@osheaotoole.com
Description
EXPRESSIONS OF INTEREST

The Port of Waterford is seeking proposals from interested parties to develop the site for Port related activities as one lot or on a break up basis. The Port will assess all proposals and will consider price, Port throughput and impact on overall site development.

The property comprises a site measuring approximately 14.98 ha (37.01 ac) set out in grass. The holding is in four divisions and the boundaries are clearly defined.

PLANNING
The Planning Authority for the area is Kilkenny City Council. The majority of the lands are zoned "Port Facilities and Industry" (C7 - Other commerce/industrial/enterprise uses) in the Ferrybank/Belview Local Area Plan 2009 - 2015 (as extended, currently from 16/3/2009 to 16/3/2020). The purpose of this zoning is to allow for the further development and expansion of portal facilities and associated industries. A strip running along the southern boundary and a north eastern portion of the lands is zoned 'POS – Passive Open Space', (G3 - Conservation, amenity or buffer space, corridor/belt, landscape). This allows for "the zoning of passive open space / green links / biodiversity conservation throughout the area".

SERVICES
The lands are not serviced. Water and sewerage facilities for existing occupiers is from well water and individual sewerage treatment plants.

ROADS/ACCESS
The site has an existing vehicular access off the estate road.

LOCATION
The subject property is located at the Port of Waterford in Belview, approximately 6km downstream and East of Waterford City and approximately 1km from the main wharf area. The Port of Waterford, which is the nearest major Irish port to mainland Europe, is accessed by way of the N29 which links with the R771 (Waterford City Centre) and the N25 (all other routes) approximately 3 km North West of the Port Terminal.
Directions
Take a left turn off the main Port access road (N29) at MIMA.
The estate road is the second turn on the left. The site is located 500m past Store All and Target Fertilisers on the right hand side.
Property Agent
REA O'Shea O'Toole
11 Gladstone Street, Waterford City, Co. Waterford
051 876 757
PSRA Licence No: 003613 /
Request Details
Our Latest Properties